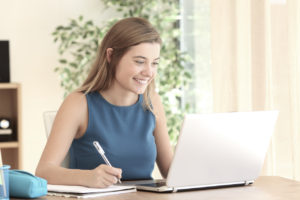 Interactive
Course Design
Our interactive course design features a highly relational and personal learning experience. Each professor joins the students weekly in an online virtual classroom with two-way video interaction, allowing students from any location to interact live with both the instructor and each other. Classes are recorded and can be watched throughout the week for continued learning.
Classes are designed for those who are called to ministry, and are trying to balance work, family, and service in the local church. Accredited professors with years of practical ministry and academic experience provide convenient online courses that can be accessed from anywhere.
Classes for credit are a low price of $300, and our Nazarene Bible College Alliance program partnership makes them eligible for transfer towards a Bachelors degree. In addition, audited classes are only $150. This is an affordable option for those seeking to sharpen their skills or for continuing education credits.
Strong Spiritual Community
Prayer and connection with fellow students during classes help to build a strong spiritual community. Developing relationships with other ministers and leaders is vital to growth and maturity in one's calling. Discipleship groups are available for students to connect with one another for continued growth and accountability.